Our next stop in our #ExploreCanada tour is Calgary!
The home of the Calgary Stampede, stunning landscapes, and plenty of fun activities! Whether you're a local or a visitor, there is no shortage of exciting things to do in this vibrant city. From outdoor adventures to unique cultural experiences, this blog post will share with you the best things to do in Calgary. Get ready to experience some of the most fun activities this beautiful city has to offer!
Heritage Park
Experience the history of the Canadian West at Heritage Park. This museum, located in Calgary, houses more than 180 exhibits, including a steam train, paddle steamer, pony rides, historical village and more. Explore the exciting interactive experiences, such as a working blacksmith shop, horse-drawn wagon rides, and a chance to learn about the lives of pioneers and Indigenous people. Admission is $17.50 for adults and $12.25 for children 4-17 years of age.
River Rafting Tour
This popular tour takes guests along the Bow and Elbow Rivers, providing amazing views of the city. Take in the sights as you paddle past Prince's Island Park, Heritage Park, and the Calgary Zoo. Prices range from $49-$89 depending on the size of the group. Get your adrenaline pumping and enjoy a fun-filled day out on the river.
Wonderland Sculpture
Located in the middle of the city, the Wonderland Sculpture is a must-see in Calgary. Created by Canadian artist Doug Driediger, the sculpture is made up of three colorful and whimsical figures, bringing a vibrant atmosphere to the city. It's perfect for a quick photo-op or an afternoon stroll, and it's totally free to enjoy!
Calgary's Farmers Market
Embrace all the best local produce, handmade goods, and culinary creations that Calgary has to offer at the Farmers Market! Held every Thursday from 3 pm to 7 pm at the outdoor plaza at 510 – 77 Avenue SE, this family-friendly market features a variety of vendors selling everything from locally grown produce to freshly baked treats. Admission is free and there is plenty of free parking available. You'll find everything from sweet jams and jellies to artisan cheeses, plants and flowers, and much more. So come down and get your fill of local eats, drinks, and products while supporting local farmers and businesses.
North Glenmore Park
This sprawling park located in southwest Calgary is the perfect place to escape the hustle and bustle of the city and enjoy some natural beauty. With its majestic trees, pristine lake, and plenty of trails for walking and biking, North Glenmore Park is a great spot for a picnic or day out with the family. Best of all, admission to the park is free!
The Olympic Plaza
Located in the heart of downtown Calgary, the Olympic Plaza is a popular spot for locals and visitors alike. Free to access, this historic square is home to many events throughout the year, including a summer market and ice rink during winter months. There are also a variety of shops and restaurants nearby. It's the perfect place to take in the sights of the city and relax with friends.
CF Chinook Centre
CF Chinook Centre is a popular shopping mall in Calgary that offers a wide range of retail stores and dining options. Visitors can shop for the latest fashion trends, browse home decor, and grab a bite to eat from the many restaurants. Admission to CF Chinook Centre is free, making it an affordable activity for those looking for some retail therapy. Enjoy a day out shopping for the latest trends and enjoy all the amenities the mall has to offer.
Stephen Avenue Walk
Take a stroll through the heart of downtown Calgary and explore the historic Stephen Avenue Walk. From locally-owned boutiques to the city's finest restaurants, this walk has something for everyone. Plus, you can enjoy some of Calgary's finest architecture and cultural attractions, including the iconic Devonian Gardens, as you make your way down the street. Admission is free, making it an excellent budget-friendly outing.
Prince's Island Park
Prince's Island Park is a sprawling riverside park located in the heart of downtown Calgary. The park offers plenty of attractions and activities to enjoy, from fishing and canoeing to walking and picnicking. Admission to the park is free, making it an ideal spot for a family day out or an afternoon of relaxation. From summer concerts to winter skating, Prince's Island Park provides visitors with a variety of activities that are sure to keep them entertained. Spend the day biking around the island, take a leisurely stroll, or even catch some fish in one of the many ponds. No matter how you spend your time here, Prince's Island Park is sure to leave you with memories that will last a lifetime.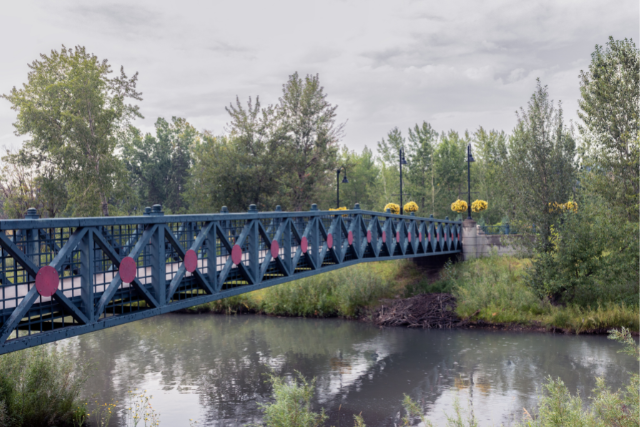 Five Famous Statues
For history buffs and art enthusiasts alike, Calgary has a wealth of statues to explore. From ancient warriors to modern day heroes, these five famous statues will provide an interesting look into Calgary's past and present.
The Famous Four – Located in front of the Calgary Central Library, this statue pays tribute to the Famous Five women's rights activists and is free to view.
Terry Fox Monument – This monument celebrates the legacy of Canadian hero Terry Fox and his courageous battle with cancer. Located in Nose Hill Park, admission is free.
Glenbow Museum – Honour the past at this sculpture located outside the Glenbow Museum. This piece depicts a First Nations hunter with his bow and arrow and is free to view.
Warrior on Horseback – This statue in front of the University of Calgary celebrates the spirit of the North West Mounted Police. Admission to view this monument is free.
The Fallen Firefighters Memorial – Show respect for the brave men and women who fight fires at this memorial in front of Fire Station No. 2. Admission to visit is free.