Hong Kong is an amazing destination for your next working holiday. Not only does it offer an exciting mix of East and West cultures, but Hong Kong also boasts a vibrant nightlife, incredible shopping, and some of the world's best beaches. With its stunning skyline, delicious cuisine, and bustling city life, Hong Kong is a truly captivating destination that offers something for everyone. Whether you're looking for a relaxing beach vacation or an action-packed city break, Hong Kong is the perfect place to explore and have an unforgettable experience.
The Cost Of Living
One of the best things about Hong Kong is that it is an incredibly affordable place to live. Compared to other cities in Asia, and around the world, Hong Kong has relatively low living costs, making it a great destination for a working holiday.
Rent prices can be incredibly cheap in certain parts of the city, and it is also possible to find accommodation for short-term rental periods. Food is also incredibly cheap, with restaurants offering a variety of dishes at prices that are very reasonable. There are also plenty of grocery stores and supermarkets that offer good deals.
Transport is also inexpensive in Hong Kong. The public transport system is very well-developed, with a wide range of bus, ferry, and tram services all over the city. In addition, taxis are abundant and can provide a convenient and affordable way to get around the city.
All in all, it's easy to see why many people choose Hong Kong as their destination for a working holiday. The cost of living is very reasonable, and there are plenty of options for housing, food, and transport. Whether you're looking for an extended stay or just a short visit, Hong Kong is definitely worth considering for your next working holiday!
The Weather
Hong Kong has a humid subtropical climate with warm summers and mild winters. The hottest months are from May to September, with temperatures ranging from 21°C (70°F) to 33°C (91°F). The coldest months are from December to February, with temperatures between 11°C (52°F) and 17°C (63°F). During the summer, temperatures may reach up to 38°C (100°F) but humidity is generally high, making it feel even hotter.
Hong Kong also experiences monsoons, usually between May and September. These bring heavy rains, thunderstorms, and strong winds which can last for days at a time. If you plan to visit Hong Kong during this time, make sure to pack rain gear and umbrellas.
The Language
Hong Kong is an interesting place when it comes to language. While English is the official language in Hong Kong, it is not widely spoken among the local population. Cantonese is the most widely spoken language in Hong Kong, and it can be challenging for tourists who are unfamiliar with the language. However, there are many locals who do speak English, particularly in the more tourist-friendly areas of the city. Mandarin is also spoken by some locals in certain parts of the city, so it's best to learn some basic phrases in both languages before visiting. If you are looking to get around the city with ease, it's best to familiarize yourself with some of the key phrases in Cantonese, such as "hello", "thank you", and "how much?" It is important to remember that many locals will be able to understand English and may even converse in English with you, but they may not feel comfortable speaking it. It is always polite to show an effort to communicate in their native language and respect their culture.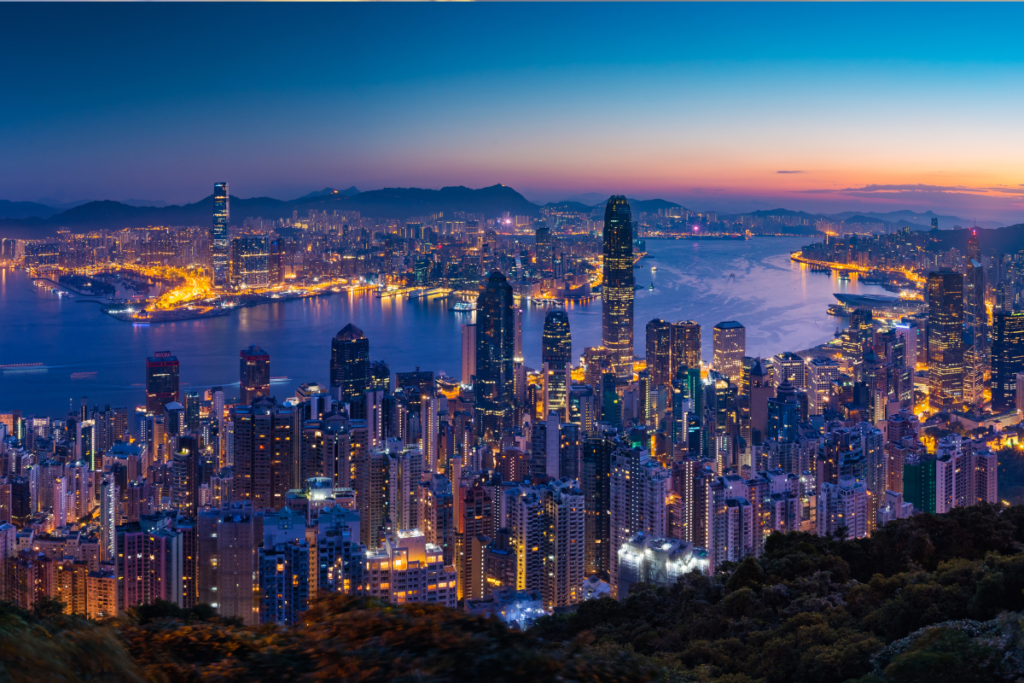 The Culture
Hong Kong is a bustling city with a rich cultural heritage. As a former British colony, the city still retains many elements of its British influence, such as the prevalence of English-speaking locals and the use of British driving standards. However, the city is also heavily influenced by Chinese culture, which can be seen in its vibrant street markets, bustling nightlife, and unique cuisine.
The city also offers a range of museums, galleries, and public spaces that celebrate Hong Kong's history and heritage. From the Hong Kong Heritage Museum to the Hong Kong Arts Centre, there's plenty to explore and learn about in this bustling city. The city also boasts a lively art scene, with numerous art galleries showcasing both local and international artwork.
In addition, the city is home to a range of cultural events, festivals, and celebrations throughout the year. From the colourful and vibrant Chinese New Year celebration to the Spring Lantern Festival, there are plenty of opportunities to experience the culture of Hong Kong. The city is also home to a number of international sporting events, such as the Hong Kong Sevens rugby tournament.
Whether you're looking to experience the historical sights or explore the cultural heritage of Hong Kong, you'll find plenty of things to do and see in this vibrant city.
The Location
When it comes to finding the perfect location for your working holiday, Hong Kong is hard to beat. Not only is it situated in a prime location at the heart of East Asia, but it's also easily accessible from many major cities around the world. From its sprawling metropolis filled with towering skyscrapers and exciting nightlife to its stunning beaches and countryside views, Hong Kong offers something for everyone.
Hong Kong also has an excellent transportation system, making it easy to explore the region and enjoy all that it has to offer. From modern MTR subway trains and buses to a comprehensive ferry system and even old-fashioned trams, there's a range of options available. In addition, you can rent cars and bicycles to explore the city or take advantage of the numerous walking trails throughout the area.
The best part about Hong Kong's location is its proximity to other countries in East Asia. Whether you're looking to explore China, Japan, South Korea, or even Taiwan, you can easily take a short flight from Hong Kong and be in any of these countries in no time. This makes it an ideal destination for those who want to experience multiple countries during their travels.
Overall, Hong Kong is the perfect destination for anyone looking for a great working holiday. With its amazing location, fantastic weather, vibrant culture, and excellent transportation system, it's no wonder why people are flocking here to experience everything this amazing city has to offer. Check out our website to find out about how we could help you with your working holiday visa to Hong Kong.