Where should I start my Australian Working Holiday? Which city should I choose for my arrival in Australia? Of course, every big city has its advantages and disadvantages, so it's not always the easiest choice to make. This article will provide you with the most important criteria and facts you need to know in order to make the right decision based on you and your personality.
Main cities in Australia
Australia has 5 cities with more than a million people, here is all you need to know to pick one to land Down Under.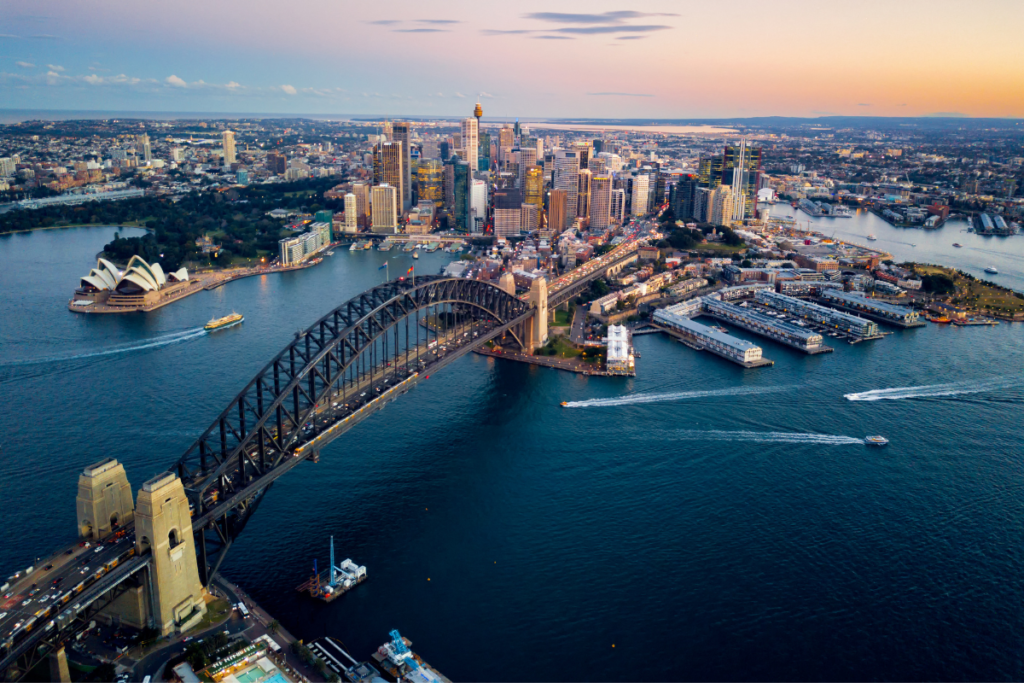 Sydney
Sydney is a multi-cultural city, known for the iconic Opera House, its beaches and its beautiful harbour. It is a dynamic city with convenient public transports, has parks, beaches,surf culture and night life.
Melbourne
Melbourne is the second city in Australia. It is is consistently ranked at the top of the most liveable cities in the world. Melbourne is well known for its amazing street art and food scene. It has a active cultural scene and amazing street art.
Perth
Perth is the most isolated city in the country. Isolated on the west coast, the city keeps growing. It is perfect for those who wish to disconnect and discover the west coast. It is also a good choice if you want to work in construction, mining etc. Its a perfect starting point to visit the West Coast.
Adelaide
The city of churches has a lot to offer. It is a small city but a great opportunity to find a job in the city of the Hills. Its a small and welcoming city with wineries and lots of farms in the area.
Cairns
Cairns, tropical city is the best gateway to the Great Barrier Reef. Laid-back city, with a swimming lagoon, it is the perfect place to enjoy the outdoor lifestyle. It has a lot of excursions and national parks to discover.
Brisbane
Brisbane is known for its warm or hot weather for most of the year. With an average of 283 days of sunshine every year, Brisbane is a vibrant city, full of surprises. Its a more relaxed city than Melbourne and Sydney.
Seasons you should know:
December to February: Summer
Summer in Australia is the time to visit the southern states of the country (NSW, VIC, SA, TAS and the south of WA). Generally speaking, it gets very hot, temperatures ranging from 25 to 40 degrees (celsius), sometimes even higher than that! In Sydney, the weather can vary a lot, as the intense heat waves can cause rain and thunderstorms. But, as you might have guessed, the weather is normally very nice and warm.
March to May: Autumn
During autumn, you can move around more or less the entire country. Most of the southern areas of Australia will be facing between 20 and 25 degrees. It is also when the wet season in the northern part ends, though it will still be very hot and humid. The risk of floods will nevertheless continue to exist, so be careful!
June to August: Winter
During winter, the ideal region is the Top End, so the northern part of Australia (Northern Territory and the north of Queensland). That's when the dry season starts, and it doesn't get as hot (still 30 to 35 degrees though).
The southern part of the country can get pretty cold, resulting in snow in Victoria's alps!! In Sydney or Melbourne, winter knows reasonable temperatures, ranging from 10 degrees in the morning t0 18 degrees during the day. Generally, winter is pretty sunny and temperatures feel hotter than they are.
September to November: Spring
Spring in Australia brings a bit of everything. It can be very dangerous in the north, as wet season officially starts in October. Thus, it starts to get very hot and humid in that part of the country. This season is ideal for discovering the south without having to suffer extremely hot temperatures and the vast number of tourists.