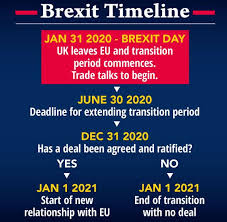 The latest delay to Brexit plans has energised a new spark for those campaigning for another EU referendum. There has been a new extension made for the 31st October which gives them more time to make the case for a so called peoples vote. But if the referendum is to be held between now and the deadline then they need to work on winning their argument fast. The halloween deadline is already challenging and is becoming a nightmare to meet.
The government will need time to prepare for another referendum and may not be able to meet the deadline. A further UK request to EU leaders to extend the Brexit process under Article 50 could be put to their June summit and may well be approved. Without that, the six-month period that has already been granted provides minimal time to organise a referendum that meets established standards.
"We have recommended that legislation should be in place six months before referendum polling day," the Electoral commission has said.
"This would provide enough time for electoral administrators to plan and for campaigners to make their arguments to voters."
For that test to be met, the legislation for another EU vote by October would already need to have completed its passage through Parliament.
The commission's head, Bob Posner, has said his team would work with MPs to deliver a referendum in the "tightest possible timescale". By side-stepping commission recommendations and speeding up the law-making process it is possible to organise a referendum more quickly. It has been said that the minimum time required could be up to 22 weeks and it's been argues that shortening the timescale mould further raise questions about the legitimacy of the referendum.
It is also the case that the Electoral Commission wants to toughen the rules for any further referendum, rather than cutting and pasting from 2016.
The commission said it had made recommendations designed "to ensure there's greater transparency for voters when it comes to digital campaigning, more real-time reporting of spending and an increase in the sanctions we can issue.
"If there is to be legislation for a referendum, we would want to work with parliamentarians to see these changes made", the Commission said.