When you think about Canada, you probably picture Niagara Falls, the stunning city of Toronto, maybe even open acres filled with moose! All perfectly fine touristy things, but you know what's even more unique…albeit a little weird? The cuisine!
Canada has a number of unique cuisines featured in one-of-a-kind restaurants and in kitchen cabinets. From drinks with toes in them to some unique candy bars, we put together a short list of some of the strangest cuisines in Canada! We hope they aren't so strange that they steer you away from considering a work abroad trip to Canada!
Poutine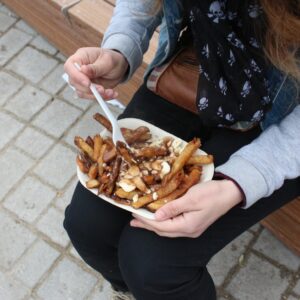 Okay let's start off with a unique flavor palette! While on your Canadian working holiday visa, you have to try Poutine, whether you want to or not. Poutine is a staple at Canadian bars and restaurants. It's primarily eaten with a beer…or maybe a Sour Toe Cocktail. This unique dish consists of crispy fries covered in cheese curds, and gravy! It may sound like a strange combo, but the locals swear by its unique flavor combo!
Pudding Chomeur
Pudding Chomeur, a simple dessert composed of butter, milk, flour, eggs and maple syrup or brown sugar sauce. This dessert was created during the Great Depression by female factory workers who wanted a sweet treat with limited ingredients. It's served all over Canada today, but the traditional brown sugar syrup has been replaced with fresh maple syrup in most places! Sounds kind of like a thick fluffy pancake!
The Sour Toe Cocktail
As the tale goes, a rum runner from the 1920's got his frostbitten toe amputated and had it preserved in a jar of alcohol. Roughly 50 years later, some bar owner found the mummified toe and thought, "let's put this is a cocktail and serve it to our customers!". That was the birth of the Sour Toe Cocktail in Yukon!
That specific toe has been used ever since in the Sour Toe Cocktail as well as several other mummified toes donated by residents of the area…gross…but intriguing. It has been deemed as perfectly safe to drink this cocktail. However, you do still need to sign a waiver and you do not get to keep the toe as a souvenir on your working holiday visa in Canada trip!
Big Turk
A sweet candy bar found in Canada, Big Turk is a delicious treat found in grocery stores and at local candy stores. It's comprised of a combination of fruit juice, food coloring, and gelatin encased in a chocolate coating! Kids and adults love it and it's a popular treat to be given as stocking stuffers or part of a birthday present!
Icewine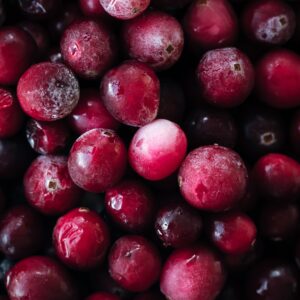 During your time in Canada in the winter months, you've got to try Icewine! Served in Canadian restaurants and bars, Icewine is a wine created from picking local frozen grapes in the Winter. This wine features a sweeter taste with fruity notes that pair beautifully with stronger, more bitter dishes! It's a rare find and one you must take advantage of on your working holiday visa!
During your trip to Canada, you'll discover dozens of unique cuisines popular to the country. Locals will turn you on to some unique eats along the way, but you've got to try the ones on our list! Yes, even the cocktail with the toe in it…and then let us know how it was. We are thoroughly curious. When you realize there isn't enough time on your trip to try all the cuisines, check out how to get a working holiday visa for Canada so you can work and explore for an entire year!