Are you looking to open a bank account in Canada? If so, you are in the right place! Opening a bank account in Canada is relatively simple, and having one can provide you with many financial benefits. In this blog post, we will discuss how to open a bank account in Canada and all the necessary steps you need to take in order to get your bank account up and running.
The Documents You Need
If you're looking to open a bank account in Canada, there are some documents you will need to provide. Firstly, you must be a Canadian citizen or a permanent resident. In order to verify your identity, you will need to bring two pieces of government-issued identification with you when you go to the bank. One of these pieces of identification should include a photo ID such as a passport, driver's license, or provincial ID card. The other document should be proof of address such as a utility bill or rental agreement.
It is important to note that these requirements may vary between banks, so it is important to contact the bank you are interested in working with to get specific information about what is required.
International students will also need:
Student permit (IMM 1442) or Temporary Resident Visa (TRV)
Proof of enrollment (optional, good-to-have)
The Process Of Opening A Bank Account
First, you will need to decide which type of bank account best meets your needs. Once you've decided, contact the financial institution that offers it and inquire about their application process. You may be able to open the account online or over the phone, but in some cases, you may need to visit the branch in person.
When you have all the necessary documents ready, it's time to start the application process. Once your application is complete and accepted, the bank will open your account and provide you with access to your funds. You should also receive a welcome package with details on how to manage your account and any other relevant information. It is important to keep all the documentation related to your new bank account for future reference.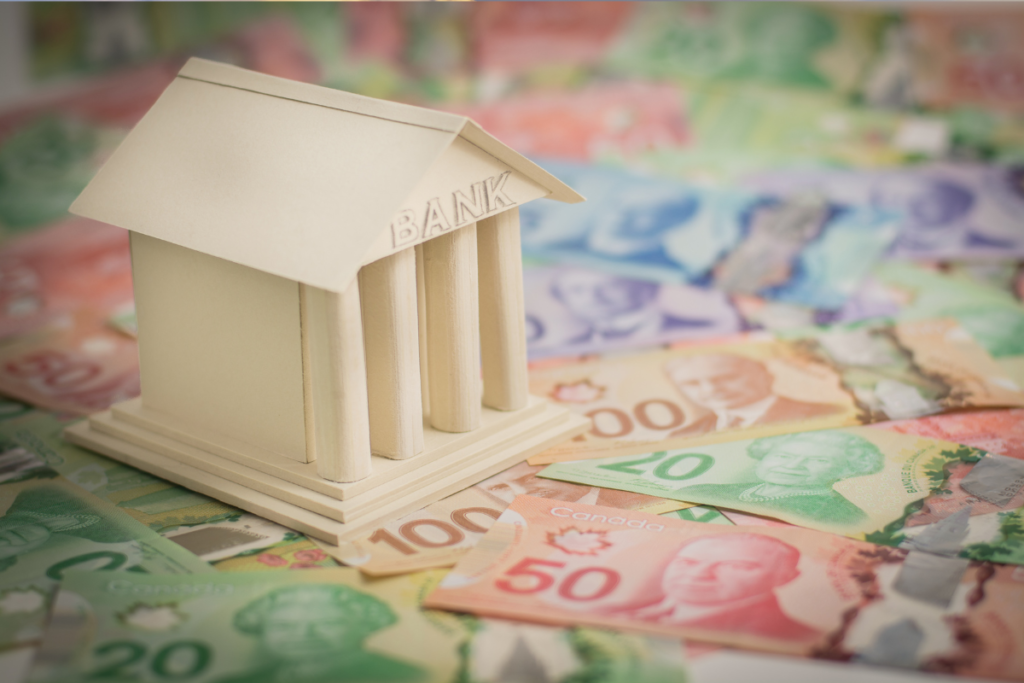 The Largest Banks In Canada
Royal Bank of Canada (RBC)
Bank of Nova Scotia (Scotiabank)
Toronto-Dominion Bank (TD)
Bank of Montreal (BMO)
Canadian Imperial Bank of Commerce (CIBC)
In addition to these banks, there are a couple of digital-only banks, such as Tangerine (a subsidiary of Scotiabank) and Simplii Financial (a subsidiary of CIBC).
You can choose any financial institution of your choice. However, it is helpful to know that the big five banks have newcomer banking packages that specifically cater to permanent residents and international students and are thus better positioned to assist you in your unique situation.
You can explore other banks as well but do so once you are in the country, apply for your IEC visa first.
Types Of Bank Accounts For Newcomers In Canada
Savings Accounts: Savings accounts are designed to help you save money by earning interest on your deposits. They usually come with minimal fees and may be able to earn you additional bonuses or rewards.
Chequing Accounts: Chequing accounts are typically used for everyday transactions such as bills, transfers, and more. They also offer a debit card for easier access to your money.
Joint Accounts: Joint accounts are useful for those who need to manage finances together. They are similar to chequing accounts but the funds are shared between two or more individuals.
Investment Accounts: Investment accounts allow you to invest your money and grow your wealth. There are a variety of different types of investments available including stocks, bonds, mutual funds, and ETFs.
Student Accounts: Student accounts are designed specifically for students to help them manage their money while studying. They often come with lower fees and additional benefits like discounts on textbooks and other items.
Business Accounts: Business accounts are designed for businesses to help them manage their finances. They offer features such as payroll services, merchant services, and more.
No matter what type of account you choose, it is important to make sure that you understand all of the terms and conditions associated with the account before signing up. This will help ensure that you make the best decision for your financial situation.
Start Building Your Credit History Early On
Having a credit rating or a credit score is essential for life in Canada. A credit score is a way for financial institutions to measure your ability to repay loans. A good credit score can ensure you qualify for better interest rates on mortgages and other loans down the line. To get started with building your credit history, having and using a credit card is essential.
The Benefits Of Having A Bank Account In Canada
A Canadian bank account gives you access to convenient banking services like online and mobile banking, which can make it easier to manage your finances. Additionally, having a bank account in Canada can help you build credit by keeping your savings and current accounts separate, as well as providing you with a secure place to store your money.
A Canadian bank account also provides you with the ability to take advantage of different interest rates, which can be beneficial if you are looking to earn more on your savings. Additionally, having a bank account in Canada allows you to transfer money internationally or domestically, making it easier to send money to family or pay for goods or services across borders. You can also receive direct deposits into your account, making it easier to receive payments from employers or other sources of income.
Overall, having a bank account in Canada offers a variety of advantages that can make managing your finances more convenient and secure. It can also help you save more money and take advantage of different interest rates.