Are you new in Canada with a Canada working holiday visa and you're wondering how to build new friendships during your stay?
This article is the perfect answer for you. Take a seat and enjoy the following tips that can help you meet new people, start a conversation and cultivate healthy connections as a working holiday visa Canadian.
Working Holiday Visa in Canada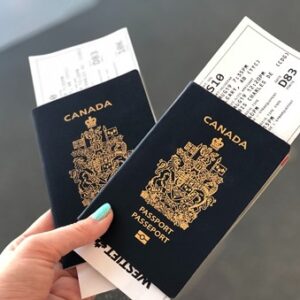 A working holiday visa in Canada is a cultural exchange concept that allows non-natives to work in Canada on a special government-issued 'working holiday visa'.
It is the perfect opportunity to embark on a journey of self-discovery, gain international work experience that will look good on your Resume or CV whilst you meet people that will improve your life and well-being.
Benefits of making new friends during your working holiday in Canada.
Starting a new, temporary life on a Canada working holiday can be exciting as well as challenging. Having left your recognized support systems – colleagues, friends and family – in your hometown, the entire process of settling down is more difficult than it would be with them.
In times like this, a strong network of Canadian locals can be of tremendous help.
The next question is – what's the best way of putting yourself out there and creating your very own Canadian social circle during your stay with your working holiday visa in Canada.
Here are our top effective and actionable steps you can take to begin developing relationships with friends in Canada while you work.
1) Observe the culture
The first thing you need to do is research your destination.  Speak to people who have visited the country, read travel guides and seek tips and advice both online and in person.
It can also be an added advantage to learn the cultural etiquette and values of the people of Canada and the exact location you are planning to have your work holiday. Learn about what is considered polite and what is considered otherwise.
2) Say Good Morning
Since the national language of Canada is English, you should do fine just saying "Good morning". Other common Canadian greetings and responses that will certainly help you when meeting new people there include; "How are you doing?" which is popularly spoken by natives as "How ya doin?". Another is "Howz it goin?", which translates as "How is it going?". Possible answers and responses include Great/fine/super, how about you? / hey, what's up? / OK I guess / Not so bad / Not too bad
With these questions, it is normally considered bad form to give true answers if they are negative, although you might say something like "Not so good, I have a bad cold".
3) Join in and be helpful
Push yourself, try something new and make the most of your time in Canada. No matter where you end up in Canada, there is a pretty good chance that there is someone in your proximity who is friendly and ready to show you the ropes. All it takes is a quick perusal on the internet or better still, a stroll through your neighbourhood. Soon you'll not just be hitting a home run or debating the plot twist, but making new friends at the same time.
4) Visit parks, places of worship, clubs, restaurants
Canada is outdoorsy and just like it was stated above, the people of Canada are very friendly. Don't be afraid to talk to strangers and exchange pleasantries. You would be surprised at how much a simple "Good morning, how ya doing?" can do in starting a first-time conversation and making a new friend.
Shared interests and the prominent weather conversation starters can work as great conversation starters. And there you have it, our three simple tips for making new friends during your Canada working holiday.