Are you in search of an incredible travel destination that offers a blend of culture, nature, and history? Look no further than Latvia, a hidden gem in the Baltic region. In this blog post, brought to you by Alliance Visas, we'll take you on a journey through the best attractions in Latvia.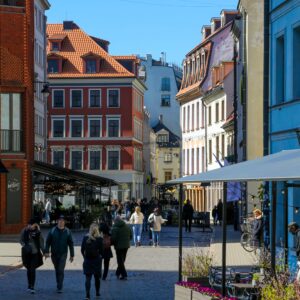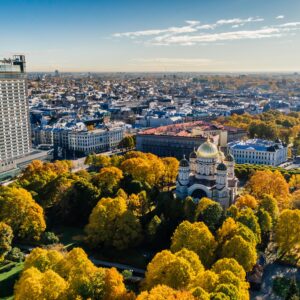 Where is Latvia Located?
Nestled in the Baltic region of Northern Europe, Latvia is a country with a rich cultural heritage and breathtaking natural beauty. Bordered by Estonia to the north, Lithuania to the south, Russia to the east, and the Baltic Sea to the west, Latvia occupies a strategic position at the crossroads of Europe, making it an easily accessible destination for travelers seeking a unique blend of history and natural wonders.
1. Riga – The Enchanting Capital City
Latvia Attractions: Are you wondering what to do in Latvia? Start your adventure in Riga, the capital city that never fails to captivate. Riga's Old Town, a UNESCO World Heritage site, welcomes you with its cobblestone streets and historic charm. Immerse yourself in the medieval ambiance at Riga Castle, gaze upon the iconic St. Peter's Church, and lose yourself in the vibrant Riga Central Market, one of Europe's largest indoor markets.
2. Jurmala – A Beach Lover's Paradise
Latvia Attractions: If you're a beach enthusiast, make a beeline for Jurmala. This beachside resort town is renowned for its golden sandy beaches hugging the Baltic Sea. Stroll along 33 kilometers of pristine coastline, unwind in a rejuvenating spa, or savor the lively atmosphere of Jomas Street, home to restaurants, cafes, and boutiques that cater to your every need.
3. Gauja National Park – Nature's Retreat
Latvia Attractions: For those who find solace in nature's embrace, Gauja National Park is a haven. It is Latvia's largest national park, featuring lush forests, meandering rivers, and picturesque trails. Immerse yourself in history at the medieval Turaida Castle, embark on invigorating hikes, or enjoy a serene boat ride on the Gauja River.
4. Rundale Palace – A Baroque Masterpiece
Latvia Attractions: For a glimpse into Latvia's opulent past, set your sights on Rundale Palace. This magnificent Baroque palace is often referred to as the "Versailles of Latvia." Admire the grandeur of its interiors, meander through its breathtaking gardens, and delve into Latvia's regal history.
5. Cesis – A Medieval Gem
Latvia Attractions: Cesis, a quaint town that transports you to medieval Latvia, is a must-visit. Explore the historic Cesis Castle, meander through its narrow cobblestone streets, and delight in local craft shops and cozy cafes. Cesis is an ideal destination for history enthusiasts and those seeking a taste of old-world charm.
6. Sigulda – The Adventure Capital
Latvia Attractions: If you're an adrenaline junkie and seek an adventure-filled experience in Latvia, make your way to Sigulda. This charming town is often referred to as the "Switzerland of Latvia" for its stunning landscapes. The Gauja River Valley offers thrilling activities like bungee jumping and zip-lining with breathtaking views of the surrounding nature. Explore the medieval Sigulda Castle and embark on hiking or cycling adventures in the lush woods.
7. Kuldiga – The Venice of the North
Latvia Attractions: In the western part of Latvia, you'll discover the picturesque town of Kuldiga, often called the "Venice of the North." It's known for the unique Venta Rumba waterfall, one of the widest in Europe. Walk along the charming streets lined with historic wooden buildings, and don't forget to visit the Venta Rumba bridge, where every summer, locals participate in the tradition of "jumping over the falls" – a fascinating spectacle.
Conclusion:
Latvia's top attractions are as diverse as the interests of its visitors. From cultural explorations in Riga to the tranquil beauty of Gauja National Park, the opulence of Rundale Palace, the medieval charm of Cesis, the adventure in Sigulda, and the enchantment of Kuldiga, there's no shortage of wonders to discover in this Baltic gem. Plan your journey with Alliance Visas, and experience the best that Latvia has to offer.
Don't miss the chance to explore Latvia's hidden treasures. Contact Alliance Visas at info@alliancevisas.com for more details and embark on a journey that promises unforgettable memories in Latvia!