Embarking on international adventures doesn't have to break the bank. Contrary to popular belief, traveling abroad can be an affordable and enriching experience if you know where to look. In this blog post, we'll explore the top cost-effective strategies for traveling abroad without compromising on the quality of your journey. From budget flights and accommodation to money-saving tips, let's delve into the world of budget-friendly travel.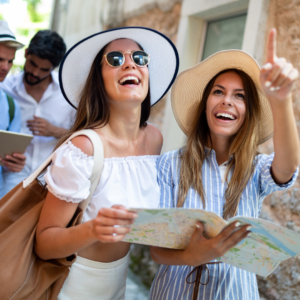 1. Be Flexible with Travel Dates: One of the most effective ways to find cheap international flights is to be flexible with your travel dates. Use flight search engines that offer flexible date options, and consider traveling during shoulder seasons or weekdays when prices are generally lower.
2. Book Early or Last-Minute: Securing your flights well in advance can often lead to significant savings. However, if you're spontaneous and open to last-minute adventures, you can find great deals on unsold airline seats or travel packages.
3. Opt for Budget Airlines: Budget airlines are a godsend for budget-conscious travelers. Keep an eye out for airlines that offer no-frills, low-cost options to your destination. While the amenities may be basic, you'll save big on airfares.
4. Travel Overnight: Consider taking overnight transportation options, such as buses or trains, to save on accommodation costs for one night. You'll not only save money but also make the most of your travel time.
5. Embrace Hostels and Guesthouses: Accommodation costs can eat up a significant portion of your travel budget. Opt for budget-friendly hostels, guesthouses, or shared accommodations to cut down on expenses. Many hostels offer private rooms or female-only dorms for added comfort.
6. Try Couchsurfing: For a truly immersive and cost-free experience, consider couchsurfing. Websites like Couchsurfing connect travelers with hosts willing to offer a free place to stay, providing a unique cultural exchange opportunity.
7. Cook Your Own Meals: Eating out can quickly add up, especially in popular tourist areas. Save money by preparing your meals or having a picnic with fresh local produce. Explore local markets for authentic, inexpensive dining experiences.
8. Use Public Transportation: Public transportation is not only cheaper but also allows you to experience a destination like a local. Opt for buses, subways, or trams to get around instead of costly taxis or private transfers.
9. Leverage Travel Deals and Apps: Subscribe to travel deal websites and apps that offer discounts on flights, accommodation, and activities. Set up price alerts to receive notifications when prices drop for your desired destinations.
10. Embrace Free and Low-Cost Activities: Enjoy the beauty of your destination without spending a fortune. Many cities offer free walking tours, museums with free admission days, and outdoor activities that won't cost a dime.
Conclusion: Traveling abroad on a budget is not only feasible but also a rewarding experience. By adopting these cost-effective strategies, you can explore new cultures, make unforgettable memories, and expand your horizons without stretching your finances. With a little research, flexibility, and creativity, you'll find that the world is full of affordable adventures waiting to be discovered. So, pack your bags, set your budget, and get ready to explore the wonders of the world without breaking the bank! Safe travels!