Are you daydreaming about swaying palm trees, turquoise waters, and sandy beaches? The Bahamas offers all that and more, making it a sought-after tropical paradise. But before you pack your bags and jet off, it's crucial to know when the best time to visit the Bahamas is. In this simple guide, we'll help you plan your perfect Bahamian getaway.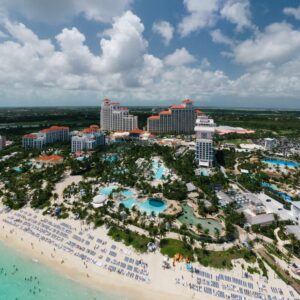 1.The Dry Season: December to April
The peak tourist season in the Bahamas runs from December to April, and for good reason. During these months, the weather is delightful, with plenty of sunshine and minimal rainfall. This period offers the ideal conditions for beach lovers, water sports enthusiasts, and anyone looking to soak up the sun.
Weather:Temperatures hover around the mid-70s to mid-80s Fahrenheit (24-30°C). Rainfall is minimal, and the humidity is lower compared to other times of the year.
Events and Festivals:You can also enjoy some of the Bahamas' best festivals and events during this time, such as Junkanoo, the Bahamas International Film Festival, and the Bahamas Great Exuma Classic.
Considerations: Keep in mind that this is the high season, so accommodations and flights may be pricier, and popular tourist spots can get crowded. Be sure to book in advance!
2. The Shoulder Season: May to November
The Bahamas' shoulder season, spanning from May to November, offers a more budget-friendly and less crowded alternative for travelers. However, it's essential to understand the nuances of this period.
Weather: This season overlaps with hurricane season, which typically runs from June to November. While hurricanes are not guaranteed, it's wise to monitor weather forecasts if you plan to visit during these months. May and early June tend to be safer choices.
Budget-Friendly: You can often find lower prices on accommodations and flights during this time. Many resorts offer special deals to attract visitors.
Events and Activities: Some travellers prefer the quieter atmosphere and take advantage of water sports, fishing, and exploring the islands during this time.
3. Hurricane Season: June to November
As mentioned earlier, hurricane season in the Bahamas is from June to November. While hurricanes are not an everyday occurrence, it's crucial to be prepared if you plan to visit during this period.
Travel Insurance: Consider purchasing comprehensive travel insurance that covers trip cancellations and interruptions due to hurricanes or other severe weather events.
Flexibility: Have a flexible travel plan, as you may need to reschedule or adjust your itinerary in the event of a hurricane threat.
In Conclusion:
The best time to visit the Bahamas depends on your preferences and risk tolerance. For ideal weather and a bustling atmosphere, December to April is your best bet. If you're on a budget and don't mind a little uncertainty, consider the shoulder season. Just be cautious and well-prepared if you choose to visit during hurricane season.
No matter when you decide to go, the Bahamas will welcome you with open arms, and its natural beauty will leave you in awe. Enjoy your Bahamian adventure, and may it be filled with sun, sea, and unforgettable memories!