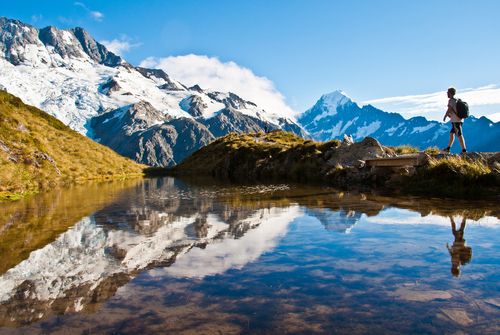 New Zealand, known for its stunning landscapes and natural beauty, offers a wide range of exciting outdoor activities for adventurers of all ages. Whether you're a thrill-seeker or a nature enthusiast, there's something for everyone in this picturesque country. Here are some of the top outdoor activities to enjoy during your visit to New Zealand.
1. Hiking and Trekking: New Zealand boasts an array of hiking trails that cater to various skill levels. From the famous Milford Track to the Tongariro Alpine Crossing, you'll be treated to breathtaking views of mountains, lakes, and forests. Remember to pack comfortable shoes and a camera to capture the stunning scenery.
2. Bungee Jumping: For those seeking an adrenaline rush, bungee jumping is a popular activity. Queenstown, often referred to as the "Adventure Capital of the World," offers several bungee jumping sites, including the iconic Nevis Bungy. Take a leap of faith and experience the thrill of freefalling against a backdrop of stunning landscapes.
3. Kayaking and Canoeing: New Zealand is surrounded by crystal-clear waters, making it a paradise for water sports enthusiasts. Explore tranquil lakes, rivers, and coastal areas by kayaking or canoeing. The Abel Tasman National Park is a fantastic spot to paddle along the coastline and encounter diverse marine life.
4. Skydiving: Imagine soaring above New Zealand's breathtaking landscapes while experiencing the ultimate adventure – skydiving. Feel the rush of wind as you descend from the sky and take in panoramic views of mountains, beaches, and forests.
5. Skiing and Snowboarding: During the winter months, the Southern Alps become a playground for skiers and snowboarders. Head to popular ski resorts like Queenstown, Wanaka, or Mt. Ruapehu for an unforgettable winter sports experience.
6. Wildlife Encounters: Nature lovers will be thrilled by the chance to encounter unique wildlife. Visit the Otago Peninsula to observe rare yellow-eyed penguins, or take a cruise in Kaikoura to spot majestic whales and playful dolphins.
7. Cycling: New Zealand offers a variety of cycling trails, from easy-going paths to challenging mountain biking routes. The Otago Central Rail Trail is perfect for leisurely rides, while the Queen Charlotte Track provides more challenging terrain.
8. Sailing and Cruising: With its stunning coastline and beautiful islands, New Zealand is a paradise for sailors and cruisers. Explore the Bay of Islands, where you can sail among 144 islands and discover secluded beaches and coves.
9. Zip Lining: For a unique perspective of the lush forests, try zip lining through the treetops. The Waiheke Island Ecozip offers a thrilling adventure while showcasing the island's natural beauty.
10. Camping and Stargazing: Experience the serenity of New Zealand's wilderness by camping under the stars. With many designated campgrounds, you can immerse yourself in nature and enjoy remarkable stargazing opportunities away from city lights.
From hiking to stargazing, New Zealand's outdoor activities are bound to leave you awe-inspired. Whether you're seeking thrills or simply want to connect with nature, this beautiful country has it all. So pack your bags, put on your adventure hat, and get ready to make unforgettable memories in the great outdoors of New Zealand!
Whether you want big thrills or peaceful nature, New Zealand has it all. Ready for your next adventure? Let Alliance Visas help you. Just email us at info@alliancevisas.com. Your exciting journey awaits!