Are you looking for a unique and exciting working holiday experience? Ireland is a great destination to combine work and play. With stunning natural landscapes, vibrant cities, and a rich culture, Ireland offers an abundance of fun activities for a working holiday. From exploring the Wild Atlantic Way to tasting traditional Irish food, here are 10 of the most enjoyable things to do in Ireland when on a working holiday.
Go For A Hike In The Wicklow Mountains
For the outdoor enthusiast, a trip to Ireland wouldn't be complete without exploring the Wicklow Mountains. This mountain range offers breathtaking views of the surrounding landscape and plenty of trails for hikers of all levels. The Wicklow Way is the longest marked walking route in the country, running over 100km from Marlay Park in Dublin to Clonegal in Carlow. Along the way, you can explore the lush forests, rolling hills, and stunning waterfalls that make up this part of the Irish countryside. Whether you're a novice or experienced hiker, the Wicklow Mountains are a must-visit destination on your working holiday in Ireland!
Visit The Cliffs of Moher
For breathtaking views of the Atlantic Ocean and Aran Islands, head to the Cliffs of Moher. Located on the western coast of County Clare, the Cliffs of Moher stretch for 8 km, offering spectacular views of the rugged Irish coastline. Climb to the top and marvel at the sheer cliffs dropping off into the sea and the islands in the distance. Be sure to bring a camera to capture the magical beauty of this area.
Take A Drive Along The Wild Atlantic Way
Take a drive along one of the most stunning coastlines in the world – the Wild Atlantic Way. This incredible drive stretches 1,553 miles of breathtaking scenery, including craggy cliffs, pristine beaches and charming fishing villages. Stop off along the way to explore some of the many attractions, such as the Cliffs of Moher and Galway's Spanish Arch. So grab your car keys and hit the road for an unforgettable journey along the stunning Wild Atlantic Way.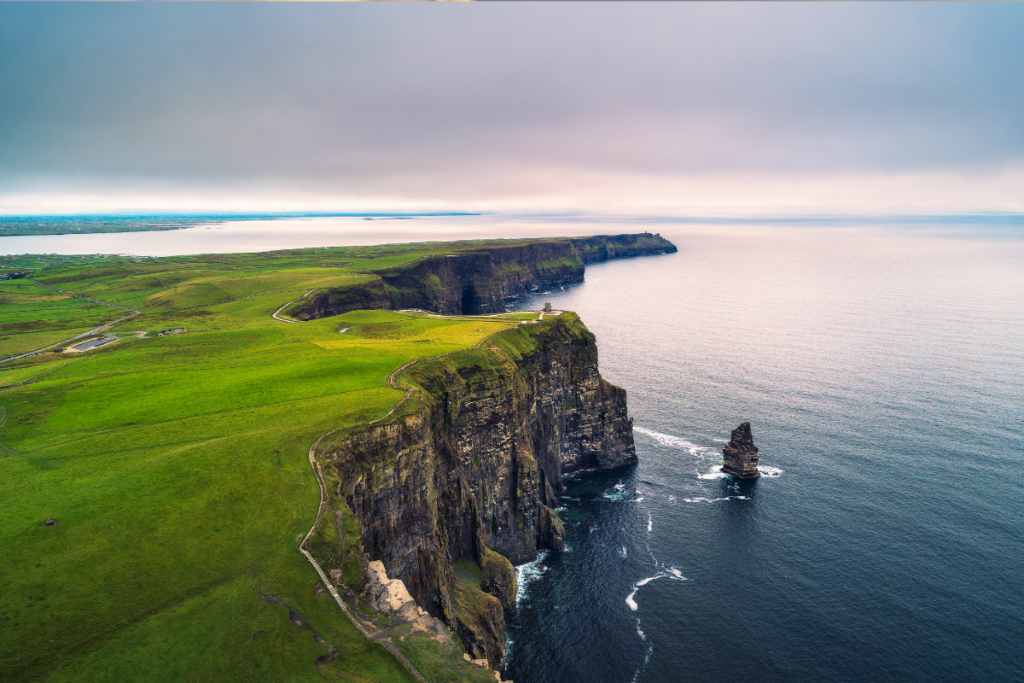 Go Island Hopping Off The Coast Of Kerry
Explore the Wild Atlantic Way from a different angle by taking a boat trip off the coast of Kerry! Enjoy views of Dingle Bay and the Blasket Islands as you cruise around the Emerald Isle. Whether you're looking for an active adventure or just want to relax and enjoy the scenery, there's something for everyone. From whale watching to fishing, you'll find plenty of activities to keep you busy. Don't forget to stop and enjoy the delicious seafood from the local restaurants!
Learn To Surf In Bundoran
Take your working holiday to the next level with a surfing lesson in Bundoran! Bundoran is a great spot for beginners, with shallow waves and a friendly atmosphere. There are plenty of local surf schools that offer everything from beginner lessons to advanced courses. So grab your board and hit the beach—you'll never forget your first ride in Bundoran!
Spend A Day At The Giant's Causeway
A visit to the Giant's Causeway is a must-do for any traveller on a working holiday in Ireland. Located in County Antrim, Northern Ireland, the Giant's Causeway is an area of about 40,000 interlocking basalt columns, formed by volcanic activity around 50-60 million years ago. It's a UNESCO World Heritage Site and a great place to explore and take in stunning scenery. Whether you're looking for a peaceful stroll or a more adventurous hike, you won't be disappointed.
Go Horseback Riding On The Beaches Of County Donegal
Take a scenic ride along the beautiful beaches of County Donegal. Whether you're a beginner or an experienced rider, you'll be sure to enjoy horseback riding through this stunning landscape. The best part? You can take in the incredible views of the sea, cliffs and sand dunes from the back of a horse!
Visit The Rock Of Cashel
Perched on a rocky outcrop in County Tipperary, the Rock of Cashel is an ancient fort and chapel steeped in history. From the 13th-century castle to the 12th-century Romanesque chapel, it's an amazing place to explore and discover the rich past of Ireland. Take a walk around the grounds, explore the castle, or take in the spectacular views from the chapel towers – it's an incredible experience.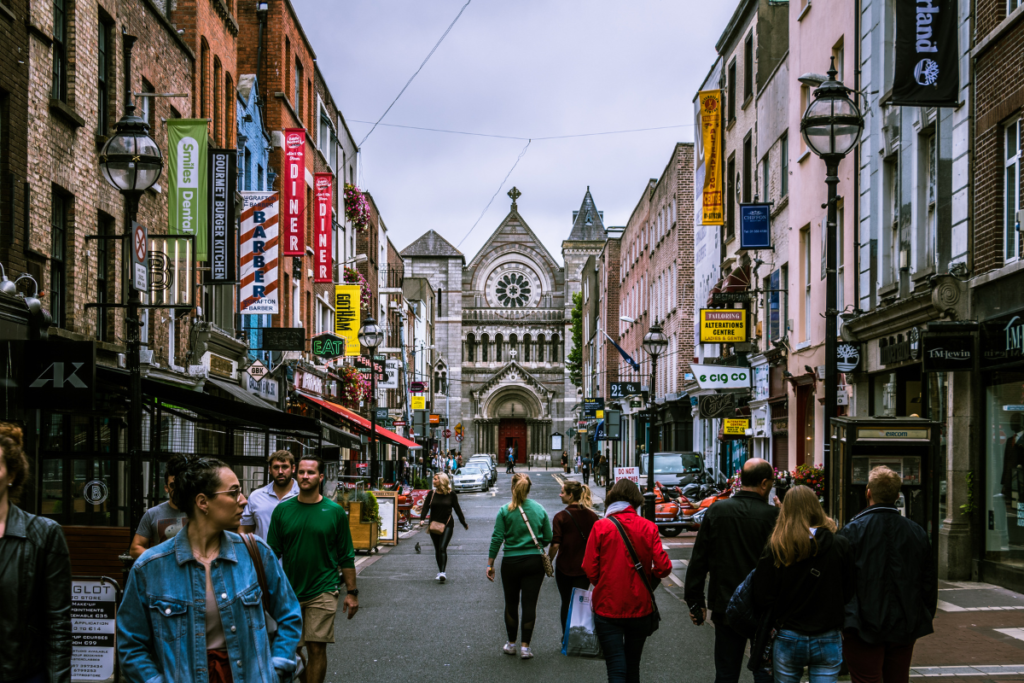 Explore The City Of Dublin, Ireland
Dublin is the capital city of Ireland, and it's an incredible place to visit on a working holiday. There are tons of activities and attractions to explore while in the city.
For starters, the Guinness Storehouse is a must-see. This museum has seven floors full of interactive exhibits that tell the story of Ireland's most famous beer. Visitors can also enjoy a free pint of Guinness at the top floor Gravity Bar!
If you're looking for something a little more historical, Dublin is home to several impressive castles. Head over to Dublin Castle for a tour or stop by Malahide Castle for a chance to explore one of the oldest castles in the country.
If you love literature, be sure to check out the James Joyce Cultural Centre, the Dublin Writers Museum, or the Oscar Wilde House. All three of these spots honor some of Ireland's most famous writers.
Dublin is also home to some beautiful parks like St Stephen's Green and Phoenix Park. These parks offer plenty of open green space for strolling, picnicking, and enjoying nature.
Lastly, no trip to Dublin would be complete without a visit to Temple Bar. This lively area is known for its bustling pubs and live music. Stop by to soak up the atmosphere and try some local craft beers.
Whether you're looking for history, culture, outdoor activities, or nightlife, Dublin has something for everyone. It's definitely a great destination to check out while on a working holiday in Ireland!
Take A Scenic Drive Through County Cork
Pack a picnic lunch and head to County Cork for a day of sightseeing. Enjoy the stunning views along the way as you drive through the countryside, stopping to take in the rolling hills, quaint villages, and stunning coastline. Don't forget to take some time to explore some of the local attractions, such as Kinsale and Blarney Castle. Finish your day off with a sunset stroll on one of the many beautiful beaches in County Cork.
Have we convinced you to take the plunge and apply for your Ireland Working Holiday visa? If so, we encourage you to apply with us. Contact us for more information or click here to read more.