Our #ExploreCanada content creator Ruben just made it back from Banff National Park and, WOW! He clearly had a blast. Catch up with all his adventures on our Instagram and TikTok pages.
Banff National Park in Alberta, Canada is one of the most beautiful natural destinations in the world. Whether you're a nature enthusiast or just looking for some fun activities, Banff has plenty to offer. From fishing and mountain biking to snowshoeing and skiing, there are tons of fun activities to experience in Banff National Park that will make your trip unforgettable. Here are 10 of the best activities that you won't want to miss when visiting Banff.
Lake Minnewanka
Situated in the heart of Banff National Park, Lake Minnewanka is a stunning lake surrounded by stunning mountain peaks. With crystal clear waters and plenty of opportunities for swimming, canoeing, and fishing, this lake is a great spot to spend an afternoon in the sunshine. Admission is free but visitors will need to pay a daily parking fee of $9.25. Whether you're looking to take a leisurely stroll, go for a swim, or just take in the views, Lake Minnewanka is a must-see on your trip to Banff National Park.
Parker Ridge Trails
Take in the stunning views of the Canadian Rockies on a hike up Parker Ridge Trails. Located just outside Banff town, this trail has four different routes that range from easy to difficult, so it's perfect for hikers of all skill levels. Plus, the admission is free! Take in the amazing vistas at the top, and don't forget to take plenty of pictures!
Banff Avenue
Banff Avenue is a beautiful street lined with shops and restaurants for you to explore. Located in downtown Banff, this vibrant street has something for everyone. Stroll along the avenue and take in the fresh mountain air as you shop for souvenirs, grab a bite to eat or just enjoy the atmosphere of this lively area. Admission is free, making it a perfect place to wander and soak up the beauty of Banff National Park.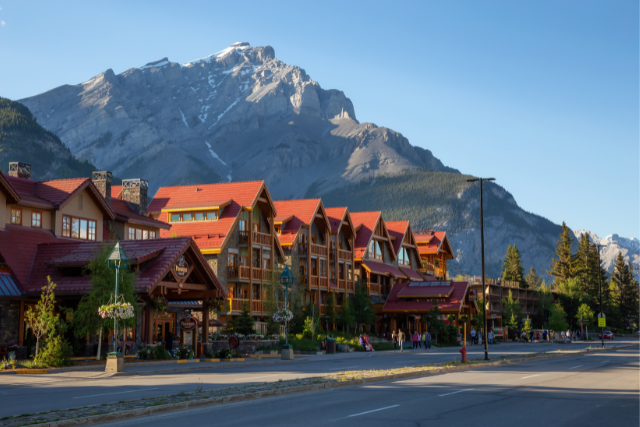 Banff Visitor Centre
Located in the heart of the town of Banff, the Banff Visitor Centre is a great place to start your visit. It's full of informative displays and helpful staff ready to provide advice on all the amazing sights and activities to do in the National Park. Admission is free, making it a great option for budget travelers. Visitors can learn about the park's history, get up-to-date information on attractions and events, purchase souvenirs, and even get maps and brochures for self-guided hikes. It's also home to an interactive art exhibit and a theatre which screens films on the natural wonders of Banff National Park.
Cascade Gardens
Cascade Gardens is a charming public garden situated along the Bow River in Banff. With a beautiful backdrop of the Rocky Mountains, it's an idyllic spot for a stroll. Admission is free, making it an affordable activity for those traveling on a budget. Enjoy the many flower beds and diverse selection of trees, shrubs and plants as you meander along the pathways. Keep an eye out for the birds, squirrels and other wildlife that call Cascade Gardens home. Relax and take in the natural beauty or bring a picnic to enjoy on one of the benches. With its serene atmosphere and incredible views, Cascade Gardens is one of the best places in Banff to spend an afternoon.
Cave And Basin National Historic Site
Take a journey through time and visit the Cave And Basin National Historic Site in Banff National Park. The site, located in the cave itself, was discovered in 1883 by three railway workers and since then has been designated a national historic site of Canada. Admission to the site is $7.90 for adults and provides an educational and interactive experience about the area's history, wildlife and conservation. Explore the cave, take part in interpretive programs, and learn about the importance of preserving our environment. Make sure to bring your camera to capture the majestic views from the top of the mountain.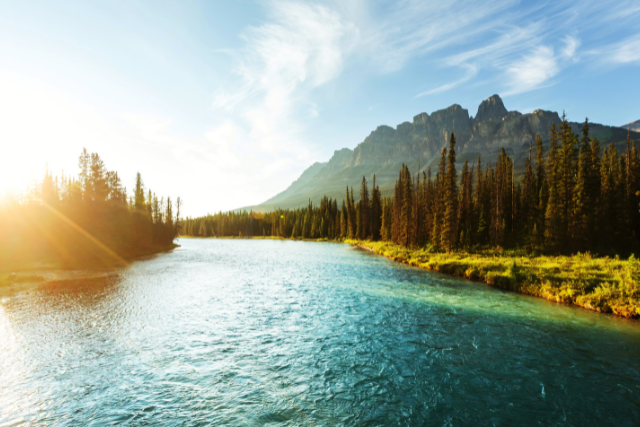 Whyte Museum Of The Canadian Rockies
If you're looking for a fun, educational activity in Banff National Park, head to the Whyte Museum Of The Canadian Rockies. This beautiful museum features art and artifacts from the local area. You'll find paintings, photographs, and a wealth of information about Banff and its history. Plus, admission is only $13 CAD for adults and $6 CAD for children aged 6-12. It's a great way to learn about the history of Banff while also enjoying some of its culture.
Banff Park Museum
Located in the heart of Banff National Park, the Banff Park Museum is an outdoor museum with a rich history. This museum was established in 1895 and showcases the region's natural history, including hundreds of fossils and rock specimens. Visitors can explore the exhibits and take part in special programs offered throughout the year. Admission to the museum is free, making it a great choice for those looking to explore the area on a budget. With its breathtaking views and amazing collection, Banff Park Museum is the perfect place to learn about the unique history of this stunning Canadian park.
Pump And Tap Tavern
Located in downtown Banff, Pump and Tap Tavern is a great place to grab a beer and catch some live music. With an impressive selection of craft beers from Alberta's local breweries, there's sure to be something for everyone. The tavern also hosts regular events such as trivia night and live bands for a fun night out. Admission is free, so all you have to worry about is paying for your drinks!
Banff Upper Hot Springs
The Banff Upper Hot Springs offers visitors a relaxing and therapeutic experience. Located within the Banff National Park, it's the perfect spot to unwind after a day of sightseeing. Guests can soak in one of several naturally occurring hot springs, each with temperatures ranging from 36-40°C. Admission is $7.70 for adults, $4.75 for youth and seniors, and free for children under 5. Whether you're looking for a peaceful spot to enjoy nature or to soothe sore muscles, the Banff Upper Hot Springs will not disappoint.