Planning a trip to Toronto, the vibrant and diverse city in Canada? The first step to ensuring a memorable travel experience is to choose the right accommodation. In this blog post, we'll guide you through some of the best hotels in Toronto, providing you with valuable insights to help you make the perfect choice for your stay. Whether you're visiting for business or leisure, Toronto has something for everyone, and the right hotel can elevate your visit to a whole new level.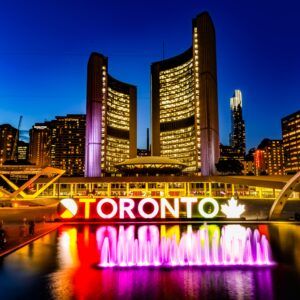 1.The Fairmont Royal York:
Located in the heart of downtown Toronto, The Fairmont Royal York is an iconic luury hotel. The elegant rooms and exceptional service make it a top choice for travellers seeking a touch of sophistication.
2.Delta Hotels by Marriott Toronto:
This modern hotel offers a convenient location near the CN Tower and Ripley's Aquarium of Canada. It's a great choice for those looking to explore Toronto's popular attractions.
3.The Ritz-Carlton Toronto:
Experience opulence at The Ritz-Carlton. It boasts breathtaking views of the city and Lake Ontario. The hotel's spa and dining options are top-notch.
4.InterContinental Toronto Centre:
Situated right in the Entertainment District, this hotel is perfect for those wanting to catch a show or explore the city's nightlife. The spacious rooms provide a comfortable retreat.
5.Shangri-La Hotel Toronto:
If you're seeking a blend of luxury and tranquility, the Shangri-La Hotel is the perfect choice. It's known for its serene ambiance and exquisite dining.
6.The Anndore House:
For a more boutique experience, consider The Anndore House. It's a chic and stylish hotel located in the Yorkville neighbourhood, known for its high-end shopping.
7.The Drake Hotel:
Art enthusiasts will appreciate The Drake Hotel, a unique boutique hotel that supports local artists and showcases their work. It's located in the trendy Queen Street West neighbourhood.
8.The Broadview Hotel:
This historic hotel in Riverside offers a classic yet trendy atmosphere. The rooftop bar provides stunning views of the city skyline.
Conclusion: Choosing the right hotel in Toronto can greatly enhance your travel experience. Each of these hotels offers a unique and exceptional stay. To make your Toronto journey a reality, don't forget to explore Alliance Visas. They are experts in helping you travel and work in your dream destination, making your experience enjoyable and reliable. For more information, contact them at info@alliancevisas.com. Make your Toronto adventure unforgettable by selecting the hotel that best suits your needs. Enjoy your stay!
Click here to get help from Alliance visas