It's no surprise that Sydney is one of the most photogenic cities in the world. Bright blue skies, sandy beaches, stand out architecture and the best hikes are just a few things to look forward to when you're in town. And have you really been travelling if you haven't documented it all on your Instagram feed? Sydney is packed with the most prettiest spots to make your feed look fun and exciting!  We've searched the city to find the most Instagram worthy  spots that'll make your Instagram feed shine, Sydney style.
The Sydney Opera House
If there was a face of Sydney, this would be it! You can't miss this classic Sydney icon, there is a range of different points where you can take some good shots. We would recommend you head to Mrs Macquarie's Chair in order to get a view of The Opera House alongside the Harbour Bridge, perfect for a landscape shot and also looks great during a nice warm sunset.
Bondi Iceberg Pool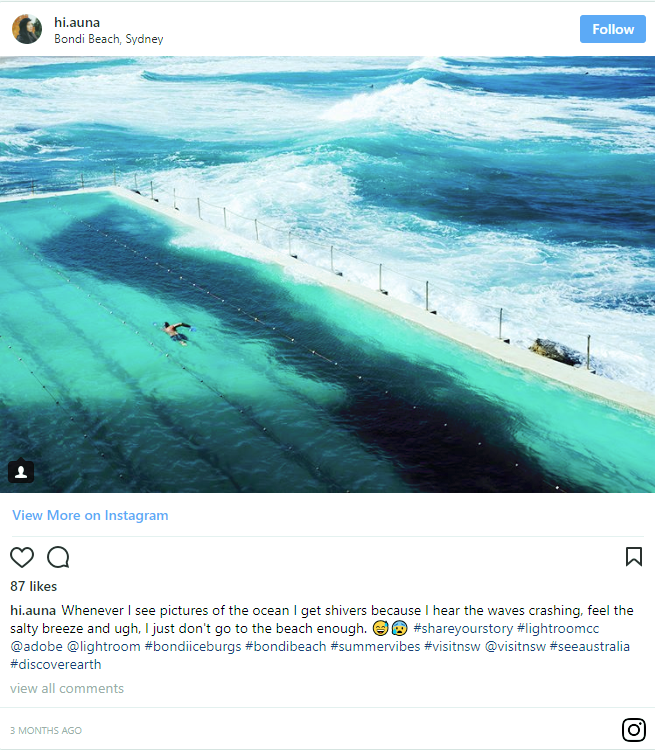 Bondi, one of the most aesthetically pleasing locations of Sydney! Most people visit here to relax and soak in some sun at the beach but if you fancy a swim then this place is for you. It features both a larger pool for adults and one smaller one for kids, and it's open all year round! The tickets for adults are only $7, perfect to go for a swim and capture the stunning views that will make all your Instagram followers envious!
Stockton Sand Dunes
Probably one of the most unlikely sights of Sydney, looks more like a view from The Sahara Desert but no there's actually sand dunes in Sydney! The Stockton Sand Dunes are located in Port Stephens and it#s the most beautiful display on endless sand, covering an area of 4,200 hectares. You can also ride camels here and go sandboarding, definitely a Instagram worthy shot!
Barrenjoey Lighthouse
This epic backdrop is a perfect blend of mountains meeting the sea and is absolutely picture perfect. You might have to hike for this one, but don't worry it's only a small 20 minute trek and is totally worth it when you get to see the stunning views of Palm Beach. If you're a big 'home and Away' fan you'll probably recognise it from there and fans can also head to the 'Summer Bay Surf Club' which is nearby to live their soap star dreams.
Angel Place
This art installation on Angel Place is a super popular spot especially for photographers! If you search it on the gram you're bound to see hundreds of visitors who have passed here and taken a shot. The artwork us called 'forgotten song' and was designed by Michael Thomas Hill. You may want to make a small video as when you walk below it you can hear the sounds of the birds that once inhabited Sydney before the City was what it is today.
Wedding Cake Rock
Not quite sure if this rock looks anything like a wedding cake but if you compare it to marzipan, we can see where they're coming from. This Sydney landmark sits on the coast of The Royal National Park and is definitely one of the most Instagramable locations. You may want to take a picture real quick though as it appears to be sinking, due to this standing on the rock has been banned but nothing wrong with taking a snap from a safe distance, and don't worry it'll still look pretty on the feed!