When it comes to accommodation options for travelers, the debate of hostels versus hotels is a perennial one. Hostels and hotels both offer different benefits, and it can be difficult to decide which is the better option. In this blog post, we'll be taking a look at both hostels and hotels, discussing the pros and cons of each, and ultimately answering the question: which one is the better option for travelers and why?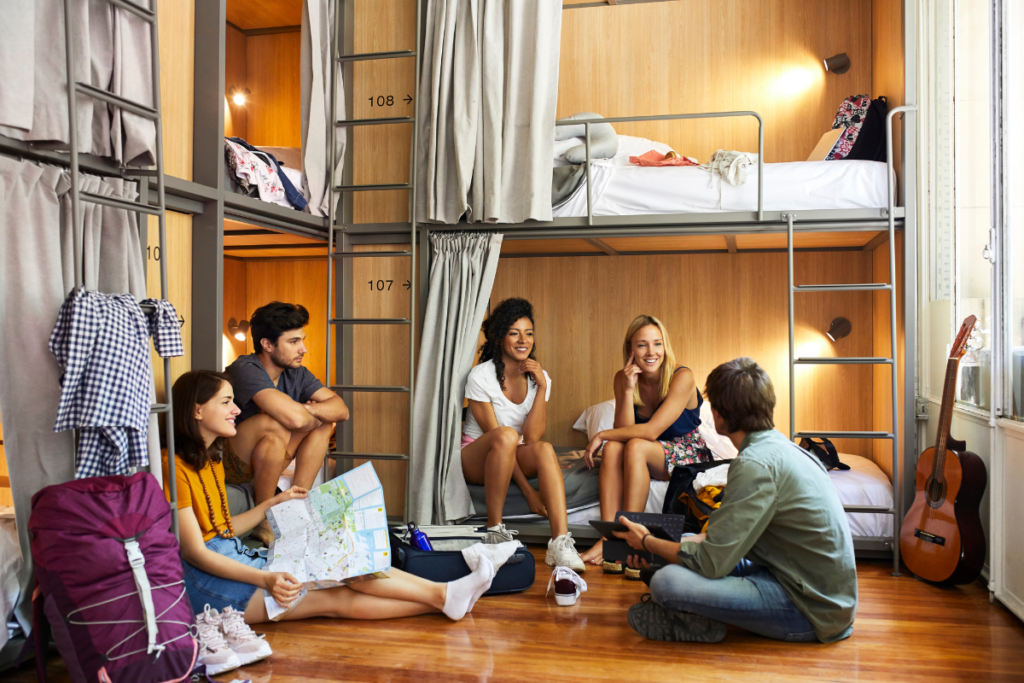 What are hostels?
Hostels are inexpensive accommodations that offer travelers a more communal experience than hotels. Typically, hostels offer dorm-style rooms with multiple beds and a shared bathroom, and sometimes a kitchen and common area. Hostels are great for travelers who don't mind sharing the living space and facilities with other travelers.
Hostels are popular for those on a budget, young travelers, backpackers, students, and people who are traveling for extended periods of time. Hostels often allow travelers to stay longer than traditional hotels and provide opportunities to meet new people and make friends during their visit. Some hostels even offer activities such as hiking, biking, and kayaking, giving guests a chance to explore the area without spending much money.
For those traveling on a visit visa or working holiday visa, many hostels offer work exchange programs where travelers can work in exchange for a free bed. This is an excellent opportunity for travelers to save money while learning about local culture, customs, and history. For those who require a work permit to do this type of exchange, many hostels can provide assistance in getting the paperwork in order.
What are the benefits of staying in a hostel?
Staying in a hostel can be a great option for travelers looking for an affordable and social way to explore a new destination. Here are some of the benefits of staying in a hostel:
Cost: Hostels generally offer much lower prices than hotels, making them a great option for budget-minded travelers or those who are on a working holiday visa.
 Social Atmosphere: Hostels are known for having a more social atmosphere than hotels, and many offer activities, such as pub crawls, that help guests get to know each other and the local area better.
Flexibility: Staying in a hostel can give you the flexibility to stay longer if needed without having to find another place to stay, since they often have flexible booking options.
Work Opportunities: If you are on a working holiday visa, many hostels will offer work opportunities like cleaning or reception duties in exchange for free accommodation or reduced rates.
Accessibility: Most hostels are easily accessible from major train stations and airports, so you can get to your accommodation quickly and conveniently.
 Diversity: Hostels are often home to people from all over the world, making it easy to meet new people and learn about different cultures.
What are the disadvantages of staying in a hostel?
One of the major disadvantages of staying in a hostel is that you may not have the same level of privacy and security as you would in a hotel. Hostels can often be crowded and noisy, with shared bedrooms and bathrooms. As such, it is important to always keep your belongings locked up and secure when staying in a hostel.
Additionally, many hostels are unable to provide visitors with working holiday visas or work permits. This means that visitors from certain countries must have a valid visit visa to stay in a hostel. As such, it is important to check the visa requirements of the country you are traveling to before booking a hostel.
Finally, some hostels may not offer the same amenities as hotels. Hotels usually offer restaurants, bars, fitness centers, and other services which hostels do not necessarily have. Therefore, if these services are important to you, you may want to consider staying in a hotel instead.
Which one should you choose – a hostel or a hotel?
The decision of whether to choose a hostel or a hotel really depends on your individual travel needs and preferences. Hostels are often the best option for budget-minded travelers, especially if you have a working holiday visa or work permit, as many hostels offer discounts for long-term stays. On the other hand, if comfort is your main priority, a hotel might be the better choice. Hotels provide the amenities and services that many travelers are accustomed to, and may also provide discounts for extended stays.
Ultimately, the choice between a hostel and a hotel should come down to what you need from your accommodation. If you're just stopping over on a visit visa, a hostel may be the more economical option. However, if you're looking for more luxurious accommodation, then a hotel would be the better choice. Consider your individual needs and budget before making your final decision.