Are you ready for a culinary adventure down under? Australia is not just known for its stunning landscapes and vibrant cities; it's also a food lover's paradise. From fresh seafood to innovative fusion cuisine, the Land Down Under has it all. In this blog post, we'll guide you through some of the best restaurants to try during your visit to Australia. But first, a little about us: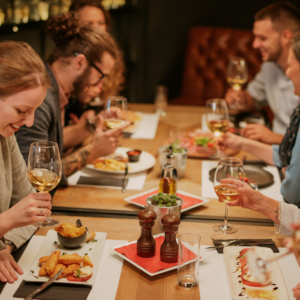 Now, let's explore some of the must-visit restaurants across Australia:
1. Quay – Sydney, New South Wales
Located at the iconic Sydney Opera House, Quay is known for its exquisite modern Australian cuisine and stunning waterfront views. Don't miss their signature "Snow Egg" dessert, a true masterpiece!
2. Attica – Melbourne, Victoria
Attica, headed by renowned chef Ben Shewry, offers a unique dining experience with a focus on native Australian ingredients. Prepare to be amazed by the creative dishes and warm hospitality.
3. Tetsuya's – Sydney, New South Wales
Tetsuya's is a culinary gem in Sydney, blending Japanese and French techniques to create unforgettable dishes. The tasting menu is a journey through flavours that you won't want to end.
4. Rockpool Bar & Grill – Perth, Western Australia
For the finest steak in Australia, head to Rockpool Bar & Grill. The elegant setting and exceptional meat cuts make it a favorite among meat enthusiasts.
5. MoVida – Melbourne, Victoria
If you're a fan of Spanish cuisine, MoVida is a must-visit. This tapas bar serves up a delightful array of dishes, perfect for sharing with friends.
6. Aria – Brisbane, Queensland
Overlooking the Brisbane River, Aria offers a taste of Queensland's finest produce. Their menu showcases the best of Australian flavors with a modern twist.
Whether you're exploring the vibrant cities of Sydney, Melbourne, or Brisbane, or venturing into the wild beauty of Western Australia, these restaurants offer a tantalising glimpse into Australia's diverse culinary scene.
About Alliance Visas
At Alliance Visas, we're passionate about helping you explore the world. Our mission is to make it easy for you to travel and work in the destination of your dreams. With years of experience in the travel industry, you can trust our team to ensure you have a reliable and enjoyable journey.
Whether you're planning a gap year, looking to kickstart your career abroad, or simply craving a change of scenery, working and volunteering abroad can be the adventure of a lifetime. We offer a wide range of opportunities that are constantly expanding, so you can choose an experience that suits you best. Now, let's dive into the exciting world of Australian cuisine!
Ready to embark on your journey to Australia and savour these delectable delights? Contact us at info@alliancevisas.com to explore your work and travel opportunities in this beautiful country. We're here to make your Australian adventure a reality.
Remember, a visit to Australia is not just about sightseeing; it's a flavourful experience that will leave your taste buds dancing with delight. Bon appétit!
Click here to get help from Alliance visas